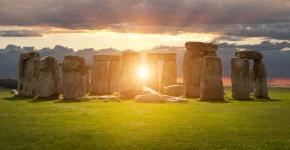 The mysteries of Stonehenge
from David, the 08/05/2020

Of all the archaeological sites, Stonehenge is one of the most famous; megalithic edifice consisting of a set of stone blocks arranged in concentric circles in the plain of Salisbury, England. Much ink has flowed to explain its origin ... The extraterrestrials would be the authors and Merlin the enchanter would have participated in its construction by bringing the stones in one night. Built more than 4000 years ago, it was one of the first riddles. What means and techniques were used to skillfully store these huge pieces on top of each other? We know that this site was a temple of cure. Far from being randomly stored, the perfectly aligned stones served to indicate the point of sunrise and sunset; the moon could also be used as a calendar to predict the arrival of the seasons. The stones were transported through a route of 170 km, which at the time was a real feat. Ropes and logs were the tools used by this society interested in the observation of the stars.
---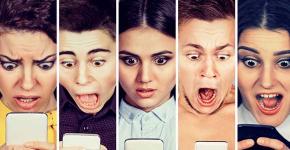 Free your smartphone...
from David, the 07/05/2020

...and increase your productivity. Free your smartphone from your email, Facebook, Twitter, Instagram... and test for 5 days. What? But it's not okay! Me, never without my Facebook! But because it has changed the lives of some people who have seen their concentration and productivity increase significantly, it can still be good to test. Indeed, we sometimes interfere with ourselves by letting ourselves go to gestures that seem entertaining (addictive, in reality) but that sometimes do not have, on closer inspection, much to bring us. most of the time, we are not in a situation where we can respond to our emails or Facebook queries (or spam or ads) because we are in the movies or sitting with friends at the table a coffee. This may be to experiment to judge the possible benefits. Give us your impressions!
---
---
Counting to relax?
from David, the 26/04/2020

Exercises based on cardiac coherence have produced amazing results for people who have been stressed or have suffered from hypertension, and who have seen their blood pressure drop significantly. One of the exercises to practice is as follows: you inhale and exhale, after which you imagine a screen where is written the number 1. Then you inhale again and at the second expiration, you will represent on this screen the number 2, and you will start again to go up to the number 10 after 10 expirations. The principle is to focus at maximum on the screen and replace all your thoughts unnecessary or generating anxiety by this screen encrypted. Of course, it is never easy to pass the enumeration until 10 of being distracted. But with practice you will succeed by letting your thoughts come out like waves to immediately focus on the screen again.
---
Storage for your small space
from David, the 24/01/2020

Of course, logic would dictate that to free space should be avoided furnishing. But there is always the possibility of cheating a strand by opting for multifunctional furniture. For example, you can buy a bed, or even a sofa bed, with built-in chests at the bottom; it will be convenient to dispose of your belongings, your books, your DVDs or your wardrobe. Take advantage of the heights of your accommodation which is never suppose they offer usable spaces: shelves here and there will avoid the mess or the bric-a-brac on the ground. On the other hand, we cannot dwell enough on the storage boxes that allow you to stuff all the objects that serve you little or not at all. And if you're a bit of a do-it-yourselfer, it's always a good idea, in tight spaces, to install sliding panels that will add cachet and vitality to your sweet-home.
---
Show your creativity
from David, the 03/01/2020

We tend to believe that we manifest our creativity through an artistic discipline, but our originality is expressed not only through the creation of a drawing or the writing of a book or even a stage play in the theater. We are the artists of our life! This is a belief that would have the merit of being integrated. Louise Hay said that we create every moment of our existence, from the smallest cell in our body to our emotional reactions. It covers how we live the relationship, live our bank account, perceive ourselves as we are (or are not), in short, all this has an obvious impact on us. We can be creative in how to concoct a dish, we can be creative in how we handle conflicts that affect others just as we can be in the development of a method that simplifies the way we work. That, in a very small part, is what we manifest.
---
---
Enlarge your interior space
from David, the 29/11/2019

How to trick when you have a small home? Giving a bigger effect to feel better, it's never impossible say the designers and there is always a way to redesign your interior. If you live in a studio and want to separate your living space in two, the thing to do is to let the light through. Example # 1: You could install a pierced library facing your bed to let the day filter through; to acquire this type of library despite a modest budget, buy plywood pine and have it made by a handyman friend. Example 2: A sliding curtain can be a good alternative. On the substrate side, opt for a boat sail stretched by means of a cable attached to the wall, this will offer a nicer look and it will slide as well as a real curtain. We tell you, there are never any problems, there are only solutions.
---
Scrapbooking: the art of tinkering without pretension!
from David, the 12/10/2019

To make a scraps book, amateurs of practical work will find their account because it is very fun, and it calls for free creativity. First, think about gathering some pictures around the same theme (the birth of your baby, a wedding, holidays...). The choice of your papers is very important: printed, plain, acid-free, vellum, mulberry: go hunting at a well-stocked stationer. Then, resize your photos to crop them while highlighting thematic elements, given free rein to your imagination with cuts in square, circle, polygon, rhombus etc. Keep the falls that could serve you further on a creative level. Highlight your photos on pop and fun backgrounds. Comment on your photos with decorative titles, you can use colorful alphabets. You do not have to load your pages but, on the contrary, air them to highlight your photos. Finally, the golden rule is to have fun valuing this slice of life you choose, no matter if it's a bit awkward.
---
Stone-paper-scissors-well or the Shifumi
from David, the 10/10/2019

If you are bored with your colleagues or want to have a little fun with your children, the stone-paper-scissors-well does not cost a round because it is played with the hands and created good slices of fun. It can also help make decisions in a flip-flop way, but in a more playful way. The rule is very simple: 2 players use their hand to give it one of four possible forms. The strongest wins the game when he reaches 5 points. Count backwards and three, have the intuitive hand! If you play the stone, you will have closed your fist: the stone beats the scissors but loses against the well or the paper. If you play the paper, it covers the stone and the well but loses against the scissors that cut it. To imitate a pair of scissors, close the fist and extend the forefinger and middle finger away: the scissors cut the paper but fall into the well or break against the stone. To designate a well, the index finger and the thumb will form an O. So, are you ready?
---
---
Gemini and diets
from David, the 20/08/2019

Gemini has a relationship to food of the most atypical. The idea that he will eat matters to him more than what he actually swallows. Three-quarters of the time, he just nibbles throughout the day and when he finally decides to sit down to the table, it turns out that he often has eyes bigger than the belly and finishes only rarely his plate. By pecking day and night, Gemini may see a malfunction of his metabolism. Specializing in small snacks as quickly swallowed as forgotten, his nibbling may be imperceptibly the cause of some extra pounds.
---
The slime for parents!
from David, the 11/07/2019

If you have children, especially teenagers, you may have heard about this weird thing from another planet. The slime (pronounced "slaim") is a viscous and colorful paste that does not stick and comes from the name of the green ghost "Jelly" in the movie Ghostbusters. This is more and more fury on social networks and represents no other interest than to mix or knead to relax and have fun. This creative craze gives our budding chemists the delirious desire to add their own personal touch with beads, glitter, pearls and so on. Of course, we can get this pot paste, but it is recommended to take the box to European standards, it is more careful because of "borax", the detergent that has been controversial because it causes burns if it is poorly dosed. The other small problem, but preventable, is to avoid putting all over his clothes or walls. So, be careful!
---