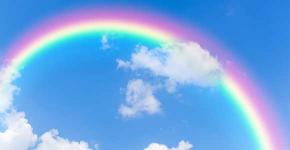 7 iridescent colors
from David, the 03/11/2019

The rainbow was not an innocent symbol for the ancients; when it appeared after a storm, it meant the presence of a beneficent deity. In their eyes, it united the earth and the sky and was perceived as the symbol of communication between men and gods. Among the Incas, it was associated with the Sun God. In Greece, it was the goddess Iris who personified it, then transmitting to mortals the messages of the gods of Olympus. In Scandinavian mythology, it is represented by the Bifrost Bridge, built by the gods from their home, Asgard, and the land. Closer to home, in the Judeo-Christian tradition, the rainbow personifies divine clemency and the new covenant made by humans after the Flood. It is a rainbow which, in the passage of Genesis, appears to Noah to materialize the link reestablished between God and men.
---
The law of joy or coincidences
from David, the 20/10/2019

Teachers of the law of attraction proclaim loud and clear: we attract what we feel. At all times, we get what we ask, whether it's positive or negative. Whatever we desire, good or bad, will come to us by the law of coincidences. This story told by Ed Kramer tells that a well-known businessman, legendary in his hometown, was always in a good mood and happy: nothing seemed to ever bother him. He might have been taken for a carefree man if his business had been so prosperous while others around him were bustling about joining, as they say, both ends. When asked why he was lucky, he replied that luck had nothing to do with it. And he added, "I do not make an investment, I do not plant a seed if I do not feel that it's good. Something in me always tells me when I have to act. I never discuss this feeling, some speculative or unreasonable as it appears to others.
---
---
Unnecessary essential...
from David, the 08/07/2019

If you go on vacation, you will not forget your suitcase, it is a fact, in which you will find clothes adapted to your stay, the toilet bag; in short, everything that will participate in your minimal comfort. If you have not thought of it yet, have someone else come along to help you and keep you connected to your inner thinking. This can be your tarot game that you can query to find out where you are, it can be a personal development book that gives you some indication of your personal journey, a novel whose story or protagonist would represent significant values that resonate in you or even your gri-gri which would be the talisman giving you a form of assurance and intimacy with the unknown. Provided that your object continues to bring you this ability to concentrate in your inner bosom and act as a spiritual guide.
---
An experience based on luck
from David, the 28/06/2019

Richard Wiseman, a famous psychologist, conducted a special experiment to show why some people are lucky. And the test could justify that lucky people know how to locate "good opportunities". A newspaper was assigned to two groups of subjects (considering themselves lucky or not) by asking them to count the number of photographs. And the average time to do it was two minutes in the "unlucky" and a few seconds in the "lucky". " How is it possible? The second page of the diary contained a message stating, "Stop counting, there are 43 photographs in this diary." This message was really clear and discernible since it was spread over half of the page and was written in large print. If it challenged everyone, "unlucky" people tended to miss it, unlike "lucky" people. A second big message was located in the middle of the newspaper: "Stop counting. Tell the experimenter that you saw this and earn $ 250. "The so-called" unlucky "people missed the message, too busy counting the photographs...
---
Asking the right question to bring luck
from David, the 23/05/2019

To play with happiness, to have an insolent chance, is a mindset that is cultivated. Few are watching for the darkness of existence to become good-wave magnets. Generally, when an event happens, whether it is positive or negative, the lucky one asks the question: "What potential holds this situation? "Or" What are the chances contained in this situation? " the unlucky one will ask himself: "What are the problems that this situation may attract me? ". Only such a basic question will be enough to provoke the forces of luck or bad luck because this question determines our way of seeing things. There is neither positive nor negative thought but a mental questioning that opens or closes. The way to ask a question causes a reaction of luck or bad luck. It is not the situation itself that provokes luck or the opposite but the way to excite our consciousness that will react to our interrogation. Because the mind will always answer your questions by taking inspiration from the essence of them. That is why it is very important to know how to ask the determining question.
---
---
Luck through the law of attraction
from David, the 21/10/2018

To activate the law of attraction and to provoke what is important to us in life, it is necessary to apply some simple rules that will have the effect of provoking what is called luck. First, the language must be positive: rather than exclaiming "What a dog's time!" Prefer "I cannot wait to see the sun come back." Then, never block on emotions that you want to manifest: if you analyze too much your own desires you will only intellectualize and not feel: this will only exhaust you. Another point: see far, see big. Do not limit yourself to your desires; if you're looking for some fun in the sun, why not plan somewhere in Thailand rather than a weekend by the sea? The universe being abundant, one must have faith and tap into unlimited potential. And last but not least, focus on what makes you peaceful and happy. If you are in a bad mood, take a break. Because feeling a form of fulfillment is the key to the openings. A high vibration always attracts more luck.
---