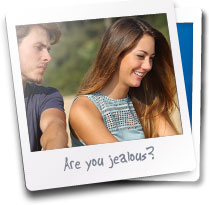 Jealousy is a feeling that often breaks in the middle of a relation in couple. In most cases it shows up in a moderate way, in shape of a normal reaction proving that your other half matters so much to you and you would not like to share her with others. But there are times when jealousy is omnipresent and might promptly become unhealthy.

You go out with a pretty girl but other men staring at her get on your nerves! How to tell your degree of this possessive feeling that could rapidly pollute your relation?



The feeling of jealousy can be flattering, but sometimes it can be particularly disturbing. Some signs are benevolent, and others are surprisingly possessive. Taurus, Leo, and Scorpio are possessive as long as they are in a relationship with someone. If their lover is too coveted, they manifest a particular annoyance. It is not desirable either to play with the feelings of a Capricorn man as this could drive him away. Virgo, Pisces, and Cancer are not endowed with this feeling, but on the other hand, it makes them plunge into the meanders of doubt. Aries, Sagittarius, Libra, Gemini, and Aquarius are not jealous, and they feel flattered if their loved one is successful. So, if you are Taurus, Leo, or Scorpio, you can be possessive because that is part of the charm of your sign, but do not cross the white line if you do not want to end up in an unwanted situation. Be fair and trust your loved one.



On the other hand, if you are Virgo, Pisces, or Cancer, do not think that others are better than you if your partner is successful. Try to have a little more confidence in yourself and your qualities. If you are Aries, Sagittarius, Libra, Gemini, or Aquarius, do not play with fire too much, as this can play bad tricks on you.



This quizz will reveal you if you are a jealous type of man.