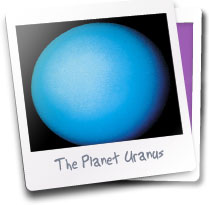 Uranus and paving the way for change… unavoidably!


All you need to know about Uranus…

Uranus rules the sign of Aquarius and is all about friendship, brotherhood and universal love, but he can also lead us, if we do not consciously contain his power, on the road to intolerance, discrimination and heresy! Whilst he frees us from a lifestyle that is no longer relevant and stops us from being stuck in a rut, there is also a danger that he could lead some to go too far. Boastful about having a head-start on the rest of the world, he often imposes his progressive views, but takes little account of the difficulties of the rest of humanity in following in his enlightened steps. He sometimes steers very close to the edge of a precipice, which can at times be extremely dangerous. With Uranus, we should expect to come up against the extreme and flirt with the transcendent. The idea is to put aside our preconceived ideas with care and give free and open rein to … our wildest ideas!


Uranus in our charts…



This is the planet of evolution and of great revolutions, which happen sooner or later over the course of our lives, and he never strikes by chance. If you feel that in one area or other of your life, you are showing a clear tendency to cling on to dead wood, you can bet that Uranus is behind everything, with his formidable energy for cutting to the quick and separating you forever from what is somehow slowing down your progress … inwardly. Under his guidance, do not expect any indulgence and expect to be shaken to the core … and on the surface. This is a planet with no qualms, inviting us to evolve without false hopes or beliefs and bury our old out-of-date ways for good.

When Uranus arrives, he provokes sudden awareness, dramatic breakdowns and all kinds of accidents and incidents that destabilise us momentarily, so that we can accept we need to let go and review everything that is holding us back! Never try to fight against the impact of Uranus. If at any time during your journey through life, you feel (or even fear) that you are going to have to give in and abandon old habits to start afresh, accept this extreme planet's influx of energy. If you do not give in to these commands to make changes, it will break you! But whilst the sudden fits of anger of this electrifying planet are to be feared, he can also be counted upon to transform our lives and add some spice to our time on earth! Discovered in March 1781 by musician and amateur astronomer, William Herschel, Uranus unveils and foreshadows future major upheavals.

This star that portrays itself as the defender of freedoms and the one that opens doors and overturns established codes, seems (by synchronicity) to have thus heralded the French Revolution, which in 1789 changed the face of the world by releasing the people from the shackles of the monarchy and the privileges assumed by a minority to be a divine right! With Uranus, Man places his faith in his own kind and exalts human virtues, demanding equality for all (alas, cutting off a few heads on the way). In this magnificent and terrifying episode, we can recognise the ambivalence of Uranus, who gives freely with one hand, but can also set himself up as a much more intransigent judge than the one whose diktat he refused to accept a short time before!


Uranus today…



Uranus is currently completing his transit through the sign of Pisces, which he approached in March 2003, distributing in his wake schools of thought that are guiding new generations towards the spiritual and intangible, subtly dictating a different and more inspired way of leaving their mark on the world! The concern for preserving the planet and the recognition of our environmental mistakes are gradually encouraging us to review our methods and opt for approaches based on sustainable development. Our awareness (unfortunately still hesitant) that the earth is sailing close to disaster, that entire population groups are under threat from our guilt and loss of way, and that we are heading straight down a cul-de-sac, is pushing us to speed up reform, despite the reluctance of financial systems and the lobbyists who are fiercely attached to their values! Between the Air element distilled from Uranus' energy and Water from Pisces, their lack of compatibility seems irreconcilable. Despite the manifest openness offered by this improbable combination, this cycle ending in March 2011 will have also unleashed tribal infighting and racial intolerance, accentuating religious and ideological divisions and hurtling our world into a crisis that is essentially far from over…


Uranus tomorrow…

On 12 March 2011, Uranus will begin his course through the sign of Aries (where he had a brief sojourn from the end of May until mid-August 2010) and we can expect… anything and everything! Uranus the revolutionary flirting with Mars, the master of Aries and the God of War? If we are hoping for a golden age, we will definitely have to fight to receive any windfalls; and to have any hope of growth or turning a sudden corner regarding the way we view solidarity, the environment and respect for others, in the interests of …us all! The planetary configurations initiated in summer 2010 and due to return in spring 2011, portend a few seasons of hell, which should, willingly or otherwise, force us to revive our taste for paradise. So Uranus, by hastening disaster, focusing on excess of all kinds and awakening our destructive urges, also forces us to confront our ultimate and magnificent ability to rise again from the ashes; to opt for ascendancy and generosity of the soul, to the detriment of gregarious instincts that chain us to our needs and give us the brief illusion of power. Powerful we will be thanks to the thundering responses of Uranus, if we accept we must serve his ultimately humanist and disinterested cause and quickly opt for the supreme path towards love, which will lead us away from social delusion and completely reconcile us with the greatness of human kind… Watch this space…


If your sign is Pisces…



Since 2003 and whatever your date of birth, you have been suffering the onslaught of Uranus, who is pushing you to carry out a comprehensive review of your life-script, break free and climb out of the deep waters where your emotional nature likes to evolve before coming back up to the surface and forcing you to make choices! A good number of you will have had the option of changing your job, your outlook or your life. Some of you will have been travelling "mid-stream", but none will have been able to escape the stress caused by the storm whipping up the seas and forcing you to accept a high pressured journey willy-nilly! From now until the end of this cycle which ends in spring 2011, your sign will need to have finished its transformation and freed itself from the dependency, beliefs and emotional attachments, which were restricting it and making it go round in circles, rather than daring to set off … on an adventure. You are now ready to take off, and thanks to the originality and natural eccentricity of Uranus, what is the betting that your natural inspiration will have taught you to fly … with your own wings!


If your sign is Aries…

Summer 2010 will have given you a fore-taste of what awaits you from spring 2011. In fact, from 12 March, 2011, it is your turn to have Uranus in your chart! You who have the reputation of being a wizard and overflowing with ideas (to the extent that you rarely follow them through to completion) and energy, will be able to experiment with the liberating and innovative power of this planet, which is linked to great discoveries, spectacular findings and inventions, from the most amazing… to the most outlandish! But whilst from this day onwards, you have an exhaustible reservoir of creativity, be very careful not to abuse this force to the point of thinking you can try or dare to do anything … without due consideration! Uranus and Aries should help us to bring about revolutionary thought processes, breathe fresh air into our beliefs and boost our strength, but at what price? Dear Aries, given that it is best to leave well alone, it is better to go for deeper awareness, which will show everyone the way by opening up the road to the future, than using certain strong-arm tactics, which are attractive, but ultimately a threat to world balance! You are by nature an initiator…… Please stay that way!






Learn more about these topics: