The Planet Saturn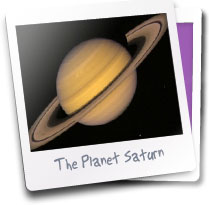 Saturn, the great teacher!


All you need to know about Saturn…

Saturn rules the sign of Capricorn and invites us to reflect on the notion of time. Under his tutelage, it is not a question of speeding things up or rushing things…but rather of obeying the instructions to be cautious from this austere planet, which sometimes suffers from a very sombre reputation, given that his main task is to teach us that we do not get anything… for nothing. If we are to have any hope of realising our dreams one day, it will not be about merely hoping or acting on our enthusiasm. Instead, we will need to structure our plans, strengthen our determination and decide on our ambitions, so that we can ultimately realise them.



But whilst Saturn puts us and our powers of endurance to the test, he can, assuming we accept his authority, lead us to the top, enabling us to reach our ideals, whether social, intellectual or even mystical! Whereas Saturn demands discipline and persistence, he also ultimately gives us the immense satisfaction of feeling we have done the right thing and perhaps not least… of being in tune with our inner soul!


Saturn in our charts…

Saturn, the Roman God of Time (Chronos to the ancient Greeks) enables us to rein in Uranus' creative flow and give it a definite form! In our charts and whatever its position, the planet will force us to sustain and develop our thoughts and actions over time! Saturn restrains the actions of Jupiter and works in tandem with him regarding our development. He also represents our structure (in physical terms the skeleton and the teeth), which also involves its progressive wear and tear as time progresses! Saturn begins … and ends things. He digs the foundations and uproots the tree when it has stopped bearing fruit. All the great changes associated with transits of Saturn therefore go in hand with the death (symbolic or real) of an aspect of life, a person or a form of behaviour which has become obsolete! His presence at a given point in our charts often indicates an axis of resistance which the individual will have to confront, to be able to progress towards his or her established aims and eventually unblock the energy that is visibly holding back his or her development!

The feeling of frustration often associated with Saturn's modus operandi therefore forces us to face our shortcomings, doubts and fears, urging us to carry out a continual and thorough analysis of the behaviour patterns (often a hangover from the past, our upbringing or social and cultural background) that hold back our progress! In our charts, Saturn signals an area that plunges us into a feeling of great insecurity, a dimension of ourselves where we are generally very sensitive to social criteria and aspirations. We look for majority approval and Saturn deprives us of this approval we desire so much. It is not until we have reached the end of a long road strewn with obstacles and all kinds of trials that we will eventually manage to remove Saturn's heavy mantle and finally come to appreciate the influence of this implacable teacher!




This essentially cold planet keeps a few good surprises in store for us, if we persevere in our quest for authenticity and discipline. If we respect his rules, not only can we aspire to all we covet (Saturn is prominent in the charts of great politicians and those in general of personalities who have contributed to a greater or lesser extent to drafting the laws that rule this world), but also come out of our shell and break down barriers. This way we can surge ahead in complete awareness along the road to achieving our ideals and excellence, having shed our complexes and fears! Saturn inspires thinkers, historians, philosophers and those who seek to excel! With Saturn, while everything seems difficult in its essence, if we accept being put to the test… we will ultimately achieve the impossible!


Saturn today …

Saturn will be resident in Sagittarius until December 2017 (after a first incursion between 23 December 2014 and 15 June 2015, followed by a second from 18 September), encouraging us to explore other dimensions of our existence and develop a more spiritual understanding of the world.

In this humanitarian sign, which is always searching for missions to accomplish and far horizons to discover, Saturn will guide us towards a more inspired vision of the measures to be taken to enable peace and order to prevail in society. However, he may somewhat dampen the impetuous enthusiasm of Sagittarius at times. This austere planet will face us with trials and tribulations that will often be demanding, so that new laws will ultimately emerge and new models arise from our reflection, to give real meaning to our existence and really contribute to making our world a better place! It will be up to us then, during the transit of this inspiring but demanding planet, to aim to excel and fulfil our ideals of solidarity, channelling our appetites and personal interests, at least a little bit. If we continue to defend these blindly, they could end up destroying all traces of humanity on earth and what's more, maybe … our beautiful planet! The stakes are considerable, but the game is worth the candle. It will sometimes seem a difficult mission to accomplish, but it remains achievable!


Saturn tomorrow…

The transformation will certainly be painful, but the stakes are high!
The recession is with us and the arrival of Saturn in Libra will be unlikely to soften the blows that we and our planet have been subjected to since 2009 (but whose fault is that?). Let us then hope that the austere planet will make us (either of our own volition or by force) put the world's finances in order and forge long-lasting alliances, based more on substance than form, leading us one day to rebuild our values according to respect for others, in order to guarantee the collective salvation of humanity! Saturn is a teacher and can sometimes turn into a harsh disciplinarian… if we persist in turning a deaf ear and ignoring his commands! It is therefore up to us to understand and ultimately… remember his lessons in particular!

Basically, at the beginning of the 21st century, a time when we were supposed to be opting for a more spiritual approach to our ultimate goals (in the words of Malraux) we are taking a long time to live out this prophecy. We would be well advised to stick to it promptly, if we wish to reap the rewards of our efforts rather than heaven's retribution. Fortunately Saturn in Libra invites us to draw cheerfully upon the diplomatic and empathic resources of this sign that is well adept at bringing together opposing factions, solving differences and bringing peace to all it touches. Let us hope that the alchemy of a sign that is full of wisdom and good will, together with the aspirations of a demanding planet, will finally allow Man to … surpass himself!



If your birth sign is Sagittarius

From 23rd December 2014, you can slowly but surely expect to begin a new cycle of development, which has been in preparation during Saturn's transit through Scorpio (since autumn 2012)! This has been a period where you have been forced to work on your inner self by asking yourself what has long (too long, even) prevented you from feeling fulfilled and being true to yourself! At the end of this period, you should have completely (or almost) gone over the behaviour patterns you need to abandon, so that when Saturn enters your sign in December 2014, you can start to broaden your horizons and change tack, and in some cases ... change your life completely!

Saturn will remain in Sagittarius until 20th December 2017, giving you almost two years to break definitively with the past (or at least with what is tugging you backwards and chaining you to habits which have in some cases been destructive), and position yourself for take-off to spread your wings.

However, there will be no hope of avoiding this essential self-analysis, which will give (or restore) some direction to your life, by divesting you in particular of the relationships, hindrances and beliefs, that have hampered your search for your identity and blocked your access to happiness!







Learn more about these topics:
Quick access to content
| | | | |
| --- | --- | --- | --- |
| Our mobile apps | | Follow us on | |

© Copyright 2006-2017 - Free Personal Horoscope - All Rights Reserved
Articles of the day
Full moon in Sagittarius: mobility!
The sun in the sign of travel, with the moon in the sign of movement, makes for an enriching [...]

---

---

Get to understand pyromancy!
Find out the secrets of pyromancy, divination by means of fire, a divination art that summons flames [...]

---

---

Aztec Astrology
Discover the mysteries of Aztec astrology and the characteristics of your sign which will influence [...]