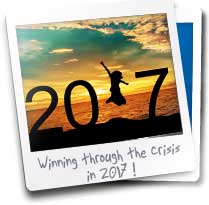 December 2016 has unveiled for us a number of prospects, a piece of blue sky to devour with a greedy eye after, since the lease contract signed (2008), we have had to make a deal with this heavy sky, the world crisis, its selection of miseries and especially the fatal slope that some thought inevitable. Surely the planets that were running this queer show have made us seasick and airsick. The grand cosmic duels that they took part in have destabilized our core systems, have got on our nerves and have managed to put to a violent test our resistance to hatred, to intolerance, deride our great ideologies.

In 2017 a break in the clouds, long-waited and hoped for, is taking shape and might finally disperse the cloud cover that has been strapping our wings and spirits for such a long time. The planets seem to finally wish to take action for suggesting us some solutions, for placing us on a road… of reason!

It is up to us to choose and hence to grasp opportunities which will pass at our arm's length in 2017, to smooth angles out, to innovate while drawing lessons from the past and not standing our ground obstinately. Saturn and Uranus ally in 2017 for boosting again the economy, reenergizing our societies somewhat on the sidelines and, why not, assigning some sense to our existence. For sure, shaking things up and making concessions (not sacrifices) will be required for jumping on the train of evolution in inexorable motion. Tension will often be palpable, battles, power wars, attempts for restoration will be inevitable. The world cannot be changed in a single day!

And nevertheless, in 2017 a new germ could well emerge from chaos, some new principles are likely to appear. Let's stake on the Saturn-Uranus duet for repairing defects or, more precisely, for rebuilding on the new foundations. Between Saturn, the great Zodiac teacher who only takes calculated risks and builds nothing without account of the past, and Uranus who plays free electrons and tends to give rise to ideas of the future, it is required to compromise between wise and mad ideas! Both these figurants will probably lead us to the road of wisdom in their manner… and in our interests.

To anticipate? Immense reforms that will shake up our set ideas while observing our fundamental rights. Social, political and economic measures that will seek to equilibrate (to reequilibrate) the shuffle without betraying the ideology (liberty, equality, fraternity) so precious to our hearts! The harmonious roof of heaven shaped by Saturn and Uranus in 2017 should allow us to avoid any integristic swerves and to start pushing away the threat of fratricidal wars! So let's get ready to step in 2017 on new roads that will help us soothe our spirits, defeat the possible plots, support the striving for peace and therefore avoid the worst!

All the whirls that we will have passed through, if they have hit the world at full strength, will probably have contributed in a direct or indirect way to leading us in 2017 on a transition path, between incentive and reflection, a need for security and hunger for something else. On contact with red-hot iron, with intolerance and unbearable violence that seemed to have become ordinary, our minds tired of speculating over battle and rage could well aspire in 2017 to be bound to something larger than themselves. To our souls perhaps?

So let's move apart for a small distortion that I hope Neil Armstrong, renowned spaceman, will pardon me from the skies' height and that will illustrate our program: A little step towards the soul, a great step towards Humanity!

Thanks to all those human guides showing us from time eternal the divine way in ourselves.

Let's start our trip, dear readers and friends, to this crisis breakthrough we've been waiting for so much!




Astrology in the world


If hope appears to be reborn since the end of 2016 as certain celestial configurations seem to announce a possible crisis recovery, not at any rate the question of backing down too easily, of having blind confidence and of opening hatches headforemost.

Saturn and Uranus should act in concert since the end of December 2016 and then in May (on the 19th) and in November (on the 11th), for relaunching and raising to a higher level the discussions between warring nations, for promoting appeasements and, why not, for inducing peace agreements! This promising celestial alchemy will however often be booed by other more belligerent planetary aspects which, in multiple repetitions in 2017, risk if not compromising then at least shaking the efforts consented by the peoples to suppress conflicts. In this way we can anticipate a few outbursts and possible tensions in March (in the area of the 3rd and the 30th) when force relations and battles for power are not to be excluded and could well stir up trouble here and beyond!

Fortunately, the cosmic influence dominating in 2017 should allow us to subdue our deflections and elaborate peaceful solutions so that, in our country as well as in the world, the journey of wisdom settles down. The point at issue is not only to suppress rage, anger, general sickness and all the feelings of injustice that nourish uprisings on our planet. We also have to open new tracks that will allow each and all of us to feel positively connected to the world and de facto to the other!

If certain errors can still be committed in August (around the 4th) and in September (on the 28th), if intolerance, stupidity and dishonesty have nine lives, let's take our pain with patience and do our best to collaborate for the sake of peace that is to shape up and emerge from the limb of ignorance during the winter 2017 when the last shot of honour sent by Saturn and Uranus (on the 11th November) could finally open an era more serene and more propitious for our individual and collective evolution. Icing on the cake? On the 3rd December Jupiter opens jointly with Neptune a dance party of inspiration, of possible elevation of consciousness and will suggest us till August 2018 to make a decisive step. A month of December at our hopes' height and the year 2017 that could well, slowly but surely, turn the tide in the right direction, push us towards the open and especially… towards the high!

PS: In the climatic plan, if in 2016 the square between Saturn and Neptune could accentuate torrential precipitations, floods, excess and pollution of all kinds, it perhaps had a merit of alerting us (better late than never) of inevitability of the danger threatening our lovely blue planet and its inhabitants entirely responsible for the committed degradations and thus for the risks borne. No more turning a blind eye and putting off till tomorrow what could and should have been done the day before, actually 30 years ago!

In 2017 if we are not sheltered from ugly weather and from possible seismic shocks, especially in March (on the 3rd and the 30th), in the beginning of August and end of September we can hope that our leaders finally realize the urgency of respecting our lady Nature and taking account of her cycles and her needs rather than, still and always, of ours solely, which are seldom essential! The positive trends should saturate our year in the most part and will push those in power to respect their previous engagements (COP21 in December 2015) perhaps more for fear of the celestial and earthly vengeance rather than out of open-heartedness, however.

Nevertheless, let's bet that, whatever everyone's motivations are, the reason prevails and inaugurates an era of changes, slow for sure but constant, an evolution of mentalities and an extension of the means applied for bringing back our universe's colours and rights! In the very end of 2017 Jupiter will ally with Neptune (on the 3rd December) for raising discussions to higher levels, stimulating our inspiration and, to be hoped, broadening our vision of this world that without doubt has been long expecting to see us grow up a little, a lot, passionately!



0 comment - Horoscope 2017: Winning through the crisis! - Add a comment
---
---
Add a comment